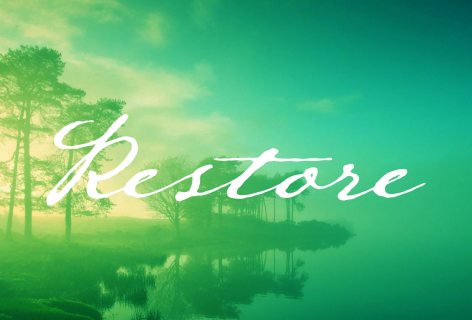 Our five-week Restore series will focus on building tools that will help you enrich your body and brain, and bring you calmness and strength. You will practice new concepts and revive tools that have previously restored and enrich you.
Register online at spdlc.org/register. The cost for the series is $15.
Tuesday, Jan. 22, 6:30 p.m.
Restore Calm to your Brain
We kick off the new year with a presentation by Dr. Henry Emmons, MD, a psychiatrist who integrates mind-body and natural therapies, mindfulness, compassion and insight into his clinical work. Dr. Emmons developed the Resilience Training Program, a ground-breaking regimen designed to relieve anxiety and restore physical and mental health, at the Penny George Institute. He is the author of The Chemistry of Calm. (Copies of the book will be available for purchase.) He is co-founder and CEO of NaturalMentalHealth.com, a website offering trusted information and holistic products to help individuals of all ages build their resilience and rediscover joy.
Tuesday, Jan. 29, 7 p.m.
Blue Zones of Happiness
Susan Path will lead the SPD Book Club in a discussion of The Blue Zones of Happiness by Dan Buettner. Come and learn more about the restorative practices of the world's happiest people. (Copies of the book are available for purchase at the hospitality desk for $15.)
Tuesday, Feb. 5, 6:30 p.m.
The Science of Sleep
Presenters: Birdie Cunningham, M.A., Associate Director of Health and Wellness, and Director of Operations and Programming for Center for College Sleep at the University of St. Thomas; and Erin Peterson, APRN, CNP, Nurse Practitioner at MN Lung Center & MN Sleep Institute.
Discuss best practices to encourage healthier sleep and address environmental factors that contribute to sleep problems
Understanding of sleep over the life span
Discuss the science of sleep and research on the connection of sleep to mental and physical well-being.
Sleep disorders (ex. apnea) and testing.
Tuesday, Feb. 12, 6:30 p.m.
Enhancing Wellbeing: Your Strengths and Positive Activity
Make each day the best with scientifically proven methods. Kristin Bransford, Ph.D., Professor of Psychology at Concordia University in St. Paul, will help us discover how to use our strengths and other positive strategies to enhance our sense of wellbeing in our daily lives.
Tuesday, Feb. 19, 6:30 p.m.
Restore Workshop Night
CEUs available for nurses.
Positive psychological strategies
Mindfulness
Yoga
Meditations on lovingkindness, gratitude and forgiveness
Use of the labyrinth
Prayer
Recommended Reading
The Blue Zones of Happiness: Lessons From the World's Happiest People, by Dan Buettner (Author), Ed Diener (Foreword)
The Chemistry of Calm: A Powerful, Drug-Free Plan to Quiet Your Fears and Overcome Your Anxiety, by Henry Emmons MD
The Chemistry of Joy: A Three-Step Program for Overcoming Depression Through Western Science and Eastern Wisdom, by M.D. Henry Emmons and Rachel Kranz
Staying Sharp: 9 Keys for a Youthful Brain through Modern Science and Ageless Wisdom, by Henry Emmons MD (Author), David Alter PhD (Author)
Love 2.0: Finding Happiness and Health in Moments of Connection, by Barbara L. Fredrickson Ph.D.
Flourish: A Visionary New Understanding of Happiness and Well-being, by Martin E. P. Seligman
The Myths of Happiness: What Should Make You Happy, but Doesn't, What Shouldn't Make You Happy, but Does, by Sonja Lyubomirsky
Mindfulness and Character Strengths A Practical Guide to Flourishing, by Ryan M. Niemiec
Making Hope Happen: Create the Future You Want for Yourself and Others, by Shane J. Lopez Ph.D.
Jesus Always: Embracing Joy in His Presence, by Sarah Young (Jesus Calling® mindful devotions)